Home > Solutions > Bank Solutions
Business-To-Treasure Solutions
Simplicity is the keyword in our solution philosophy. Our solutions are remarkably easy to implement, to use, and to maintain. Being a corporation wide system, it is imperative from a practical viewpoint that the service is value-add for Banks Strategy.



Innovn Banking Solutions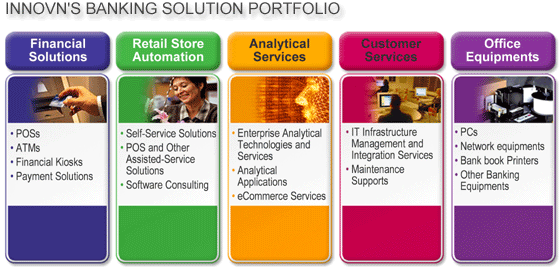 Applications:
Banks need to offer more value adding solutions for their corporate clients to create customer commitment and generate new revenues in the highly competitive market space. Innovn's creative solution offers Banks an exceptional opportunity to lock in their corporate customers.
Innovn enables banks to support their corporate clients' STP requirements, thus enhancing the Bank's trusted service provider role and allowing a deeper customer relationship. This opportunity is even further supported by the current combined trends of workflow automation and IT solution outsourcing.
Leading global financial institutions present Innovn's solution as the state-of-the-art treasury tool for their corporate clients.
Customer Speak
"Couldn't be more satified with the team-work achievements! I was totally touched when involved within INNOVN team to do the initial investigation of our system." - Wang Feiying, Vice Director of Youngor Logistics.

"I'm always selling products to overseas market, yet never thought some one could make it so easy and benefit. INNOVN did it for me! " - Lu Youlong, Sales Director, Overseas Dept. Shanghai iTech Computing system

Partnerships